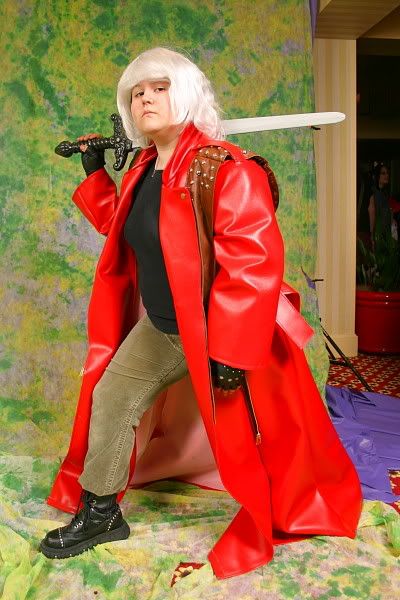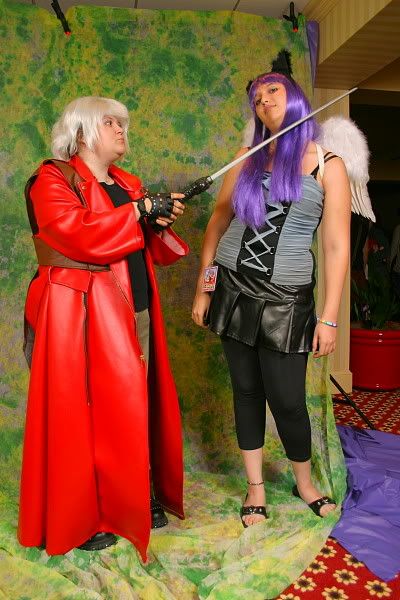 Want a coat like this? Just contact me and I actually teamed up with my mom for this Dante coat. We do respect the integrity of copyright, so we will not make trenchcoats with all the exact details from a character if the coats/outfits are original designs. But we can give you a good base and point you to where you can get the supplies for the details and tell you how you can do it. (: My mom is a really talented seamstress (she doesn't know it!) and I really am trying to get her promotion and have her get her own commissions or join with me on this.
A coat like this would probably go for about $300-$500 depending on detail. (There's so much work and custom fitting that goes into these suckers, plus vinyl is VERY EXPENSIVE.)
The wig was cut from a longer wig, (oh man that was a pain) it took me and my mom 2 times to do it since I was thinking I could be a hair dresser since I dye my own hair. My mom warned me, I didn't take heed and I messed it up. But this wig is good since I just gave the scissors to my mom. She was all like "What do I look like? A hair dresser?" Ha! She could be. I guess being a multi-threat artist runs in the family!
The sword was bought (Halloween USA).
The boots were bought as well (Hottopic)
The pants, I forget where I got them from and the shirt too. But they are just a black tank top since i'm not going shirtless under that like the costume is in DMC3. And then the pants are brown or green cords.
Gloves are also bought (Hottopic)
If you have any trouble finding the gloves, i'm sure sites like angryyoungandpoor.com would have them! Or check Amazon or a local Thrift Store might provide you with some goodies!